Kodaikanal Solar Observatory (KSO)
The Kodaikanal Solar Observatory (KSO) of the Indian Institute of Astrophysics is located in the beautiful Palani range of hills in Southern India. It was established in 1899 as a Solar Physics Observatory and all the activities of the Madras Observatory were shifted to Kodaikanal.
Telescopes and instruments at KSO
H-alpha telescope
The H-alpha telescope installed at the Kodaikanal Observatory in October 2014. An objective lens of 20 cm doublet provides f/7.9 beam. With the additional optics, the telescope makes full-disk image of the sun. The telescope is also capable of making magnified view of partial disk of the sun.
A tunable Lyot filter isolates the H-alpha spectral line. The H-alpha line center image was made with a spectral resolution of 0.4 A. With the 13.5 micron pixel CCD camera the pixel resolution is about 1.21" in full-disk and 0.48" in partial disk mode.
All the H-alpha data is calibrated. The calibrated data is available for scientific research on request.
Twin Telescope
Two telescopes mounted on a single equatorial mount. Each telescopes, having 15-cm objective lens makes the full-disk images of the sun in Ca-K (393.37 nm) and white-light. A 2048 X 2048 pixels with 13.5 micron sized CCD camera makes the full-disk images of the sun in Ca-K and white-light with a pixel resolution of 1.25 arc sec. The telescope started making the observations of the sun in Ca-K wavelength and white-light since February 2008. It has stopped making observations in 2012. Now, the observations of the sun in Ca-K wavelength is made using WARM telescope. The calibrated data from 2008 to 2012 is available for scientific research on request.
WARM Telescope
A full-disk solar imaging telescope WARM (White light Active Region Monitor) is started making the full-disk observations of the sun since January 2016 at the Kodaikanal Observatory. It has a two-mirror coelostat system which feed sunlight to the 15 cm aperture doublet. The telescope along with additional optics produces two images in perpendicular directions. In one channel full-disk G-band images (at 430.5 nm) and in the other channel red continuum (630.25 nm) images are obtained. From February 2017, the red continuum filter is replaced with Ca-K filter. The WARM telescope is making the fulldisk observations of the photosphere and chromosphere simultaneously.
The calibrated data of full-disk G-band and Ca-K is available to the public on request
Spectrograph
A Littrow-type spectrograph is the back-end instrument at the telescope. A 20 cm diameter, 18 m focal length achromat in conjunction with a 600 lines/mm grating gives 9 mm/A dispersion in the fifth order of the grating. Together with the 5.5 arcsec/mm spatial resolution of the image, it forms a high resolution set up for solar spectroscopy. Recording of the spectrum was made photographically in the past and at present 2k X 2k pixels CCD camera is used.
An another instrument, polarimeter set-up kept infront of the spectrograph slit makes polarization measurements in sunspot regions of the sun. This instruments provides magnetic field strength and direction in sunspot regions.
Full-disk Photoheliograph
A 15 cm aperture English mounted refractor by Lerebour and Secretan, acquired in 1850 and remodelled by Grubb in 1898 to serve as a photoheliograph, is in use since the beginning of last century to obtain 20 cm white light pictures of the Sun on a daily basis, sky permitting. This telescope is functional till today and continue to take images in photgraphic films.
Full-disk Spectroheliograph
Twin spectroheliographs giving 6 cm diameter full disc photographs of the Sun in Calcium K and hydrogen alpha lines are in regular use till 1999. A 46 cm diameter Foucault siderostat feeds light to a 30 cm aperture f/22, Cooke triplet lens. The two prism K spectroheliographs were acquired in 1904 and the H alpha grating spectroheliograph was operational in 1911. Since 1912, prominant pictures over the full limb are also being obtained in K by blocking the solar disc. These observations and the white light pictures are obtained around 200 days a year.
Kodaikanal Radio Spectrograph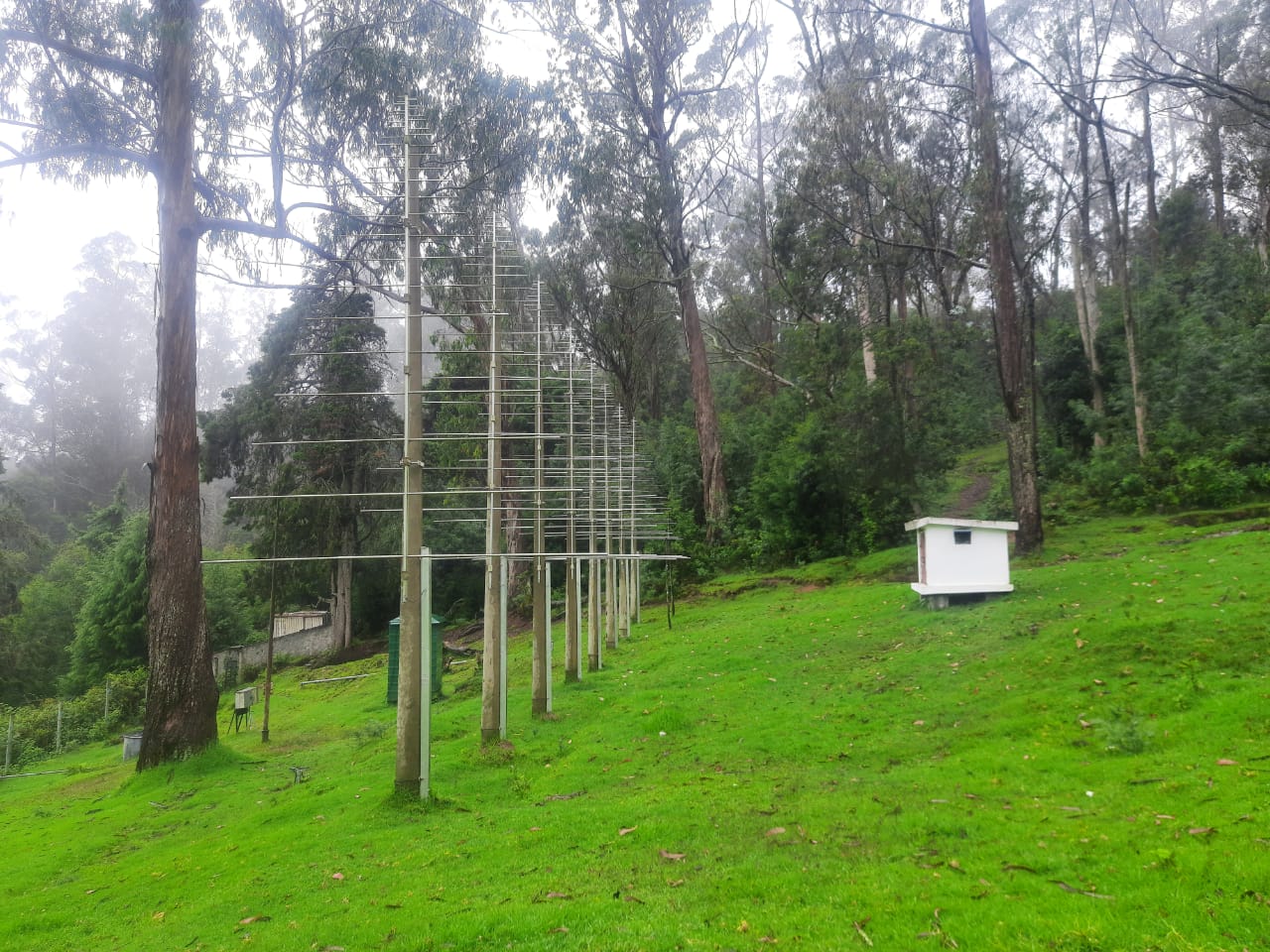 Radio observations of the Sun from the Kodaikanal Solar Observatory (KSO) date back to the early 1950s (A.K.Das, Nature, 1952, Vol.170, p55). Continuous recording of the solar radio noise flux commenced in 1952 using a 100 MHz interferometer with Yagi antennas (A.K.Das and K.Sethumadhavan, Nature, 1953, Vol.172, p446; A.K.Das and B.N.Bhargava, Nature, 1953, Vol.172, p855). These were the earliest solar radio observations in India. A 20 feet paraboloid for observations at frequencies in the decimeter and meter wavelength range was set up on an equatorial mount in 1961. Work on an interferometric aerial for scintillation studies at 60, 100 & 200 MHz simultaneously was also started during this period (B.N.Bhargava and A.P.Jayarajan, J. Inst. Tele. Engg., 1960, Vol.6(5), p231; B.N.Bhargava, J. Inst. Tele. Engg., 1964, Vol.10(8), p404 ). Under the Kodaikanal - Yale Project, recording of radio radiation from Jupiter at a frequency of 22.2 MHz was started using a phase switching interferometer (U.V.Gopala Rao, Proc. Ind. Acad. Sci. 1967, Vol. LXVI, p112). The custom-built 3 GHz wavelength radio receiver from the Commonwealth Scientific and Industrial Research Organization (CSIRO), Australia was put to use in 1965. Mounted on a 2-meter paraboloid, it was used for regular solar patrol. During the late 1960s and early 1970s, small-sized antenna arrays operating at 25 MHz were used to obtain information on the radio bursts from the outer solar corona with high temporal and spectral resolution (Ch.V.Sastry, Solar Phys., 1969, Vol.10, p429; Astrophys. Lett., 1971, Vol.8, p115; Astrophys. Lett., 1972, Vol.11, p47; Solar Phys., 1973, Vol.28, p197; Ch.V.Sastry and K.R.Subramanian, Ind. J. Radio Space Phy., 1974, Vol.3, p196; V.Krishan, K.R.Subramanian and Ch.V.Sastry, Solar Phys., 1980, Vol.66, p347; K.R.Subramanian, V.Krishan and Ch.V.Sastry, Solar Phys., 1981, Vol.70, p375).
During the period 2014-2016, a suite of new facilities for routine observations of the Sun in Halpha, Ca II K and G-band have been installed in KSO. In view of this and with the motive to carry out coordinated multi-wavelength observations of the Sun from the KSO, a new wideband (35-85 MHz) radio spectrograph is being operated in KSO since 2018. Note that though similar low-frequency solar radio spectrographs are operational elsewhere also, the new set-up in KSO offers the unique advantage to quickly organize and carry out high cadence observations of the Sun with the other optical observing facilities in KSO whenever a radio transient is observed. The details about the new radio spectrograph can be found in Indrajit.V.Barve et al., Solar Phys., 2021, Vol.296, p132.
For Daily cumulative spectrum and Latest spectrum click here
Astronomy Museum
The Observatory has arranged a popular Astronomy museum on campus for the visitors. It is located 400m from the main gate. The displays are mainly pictorial, supported by a few telescope models. A live solar image and the Fraunhofer spectrum can be seen here depending on the observing conditions. It is open for all seven days including Govt. Holidays between 9:30 to 12:00 hrs and 14:00 to 16:30 hrs. Night Skywatch is also available from 6:30 pm to 7:30 pm.
Contact
Dr. E. Ebenezer Chellasamy (Resident Scientist)
E-mail : eben[AT]iiap.res.in
Prof. R. Ramesh (Professor In Charge)
E-mail : ramesh[AT]iiap.res.in
Kodaikanal Solar Observatory
Indian Institute of Astrophysics
Kodaikanal- 624 103 India
Tel : 91 (4542) 240 245
24x7 Enquiry : +91 (4542) 240588, 246242
Last updated on: September 12, 2023